Big Brother Minecraft
Season 6 (2018)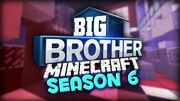 Houseguests
Name
Entered
Exited
     
Blake
Day 1
-
Chris
Day 1 
- 
 
Hannah
Day 1 
- 
 
Harrison
Day 1 
- 
 
Jay
Day 1 
- 
 
Max
Day 1 
- 
 
Tucker
Day 1 
- 
 
Anthony
Day 1 
Day 28 
 
Ayda
Day 1 
Day 28 
 
Payton
Day 1 
Day 21 
 
Dylan
Day 1 
Day 14 
 
Jaiden
Day 1 
Day 7 
 
Winner
Runner-Up
Jury Member
Evicted
Big Brother Minecraft 6
is the 6th season of Big Brother Minecraft and the 7th season overall. The premiere was on July 5th 2018 and carried out through the summer of 2018.
Background
Development
Staff
This season, Andrew had previous contestants help out behind the scenes with multiple roles.
David Beeson, DLB50 - Cameraman
Brady Young, BradyMC - Cameraman
Alec Deurloo, LeGamzi - Technical Support
Casting
Applications opened up at the end of the season 5 finale...
Twists
Houseguests
Future Appearances
Voting History
Week 1

Week 2

Week 3

Week 4

Week 5

Week 6

Week 7

Week 8

Week 9

Week 10

Day 1

Day 7

Day 15

Day 21

Day 22

Day 28

Day 70

Finale

Blake
Chris
Payton
Jaiden
Anthony
Nominations
Void
Max
Ayda
Rep
Chris
Jaiden
Tucker
Vetoed
Jaiden
Dylan
Nominations
Void
Payton
Ayda
Anthony
Hannah
Jaiden
Chris
Jaiden
Dylan
 
 
Max
Anthony
Harrison
Chris
Jaiden
Payton
Ineligible

 
Vetoed
Payton
Ayda
Blake
Jay
Tucker
Jaiden
Payton
Dylan
Nominations
Void
Payton
Anthony
Max
Jaiden
Chris
Jaiden
Anthony
Rep
Vetoed
Anthony
Tucker
Jaiden
Hannah
Payton
Nominations
Void
Payton
Ayda
Anthony
Chris
Jaiden
Jaiden
Rep
Nominations
Void
Payton
Max
Jury
Member
Ayda
Jaiden
Tucker
Ineligible
Anthony
Vetoed
Payton
Jury
Member
Payton
Jaiden
Chris
Rep
Vetoed
Dylan
Nominations
Void
BPOV
Rep
Dylan
Jaiden
Tucker
Jaiden
Jaiden
Payton
Chris
| | | | | | | | | |
| --- | --- | --- | --- | --- | --- | --- | --- | --- |
| Key: | Nominated | HOH | POV Holder | Immune | Jury Member | Evicted | Vote to Nominate | Veto Immunity |
Devil's Den History
Week
Prize/Punishment
Visitor
Sent by
Affected
Result
Description
Week 1
Twist
Not Active
Week 2
Not Eligible to Vote

Harrison

Tucker

Harrison and Dylan

Harrison was ineligible to vote,

and because Harrison was the swing vote, but couldn't vote, Dylan was ultimately evicted by a 4-3 vote.
Week 3
Boomerang Veto

Harrison

Hannah

Harrison and Payton
After Harrison was nominated, and the veto wasn't used on him,
Harrison used his Boomerang Veto to save himself,
Afterwards, Payton was then named as Harrison's replacement,
and in result, Payton was evicted 6-1.
Week 4
Not Eligible to Compete for HOH

Harrison

Jay

Harrison

Harrison was not able to play for HOH during the

double eviction.
Week 5
TBA
60px
To be Announced
60px
To be Announced
60px
To be Announced
| | | | |
| --- | --- | --- | --- |
| Key: | No Vote | Boomerang Veto | Ineligible For HOH |
Game History
Week 1
Week 2
Week 3
Week 4
Round 1
Round 2
Week 5